Do you have a Colonial Ancestor? The Importance of Searching Charleston Records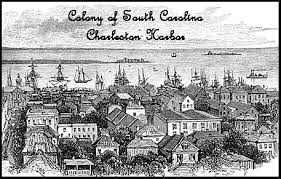 In 1678 the first permanent English settlement in South Carolina was established at Albemarle Point. In the beginning of colonial times, however, the province included both North Carolina and South Carolina. They did not become separate royal colonies until 1712. Major settlement began after 1651 as the northern half of the British colony of Carolina attracted frontiersmen from Pennsylvania and Virginia, while the southern parts were populated by wealthy English people who set up large plantations dependent on slave labor, for the cultivation of cotton, rice, and indigo. South Carolina's capital city of Charleston became a major port for traffic on the Atlantic Ocean, and South Carolina developed indigo, rice and Sea Island cotton as commodity crop exports, making it one of the most prosperous of the colonies. Charleston maintained its port city with a strong colonial government who fought wars with the local Indians, and with Spanish outposts in Florida. The Spanish, well-garrisoned with its fleet in St. Augustine, were always a threat. And pirates plundered throughout the Atlantic from the New England States to Charleston. Since Charleston was an active port city trading with New England States, Savannah and other countries, tis wise for the genealogist to dig into the oldest records there. Interesting, one will discover bonds and affidavits regarding court trials against pirates, and other business which affected the Carolina regions. In tracing SC families one must consider all of the regional and historical aspects.
South Carolina Pioneers
has an online collection of the oldest surviving wills, estates and deeds dating from 1687 to 1846. The point is that your ancestors could have easily landed at the Charleston port as anywhere else. It is a source which should not be overlooked. . . . more . . .
---
---
South Carolina Wills and Estates
---